The INTAKE SNAKE ™
The Professional Way to Clean Throttle Body
and Intake Deposits!
RECOMMENDED:
Every 15,000 miles or annually, either as a stand-alone service or in conjunction with Run-Rite or Zoom multi-step fuel system cleaning.
• Improve Throttle Response
• Improve Idle Quality
• Improve Fuel Economy
• Reduce Emissions
A revolutionary way to clean the throttle body, throttle plate, and intake track. The Intake Snake Tool's comfort grip handle and flexible shaft provide easy access to difficult-to-clean throttle bores.
The Intake Snake "Heads" are disposable, pre-soaked cleaning pods that are designed to easily attach to the end of the tool, and are formulated to "eat up throttle deposits."
Non-Flammable. Non-Corrosive. Disposable in an ordinary trash receptacle.
For Professional Use Only.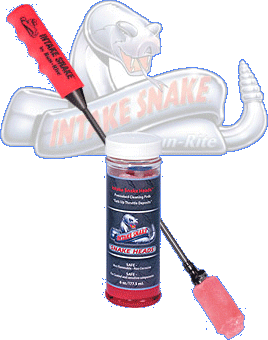 The Snake is EASY TO USE!
Safe for coated and sensitive parts.